This podcast will help grow your faith for everyday life. It will bring you the truth behind the headlines and equip your faith to navigate the cultural chaos of today. Each week you'll hear a devotional-style episode that will edify your faith in a practical and actionable way, and you'll hear an episode that will reveal the meaning behind current events. This show will also bring you engaging interviews on important topics. God is on the move right now through people just like you and you are part of His plan. 
Get engaged by submitting your questions or topics for the show. Just visit the contact page to let us know!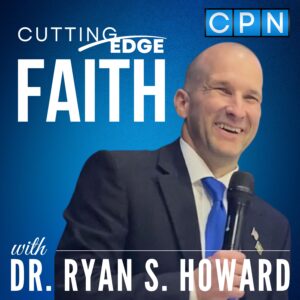 Meet the host:
Dr. Ryan s. Howard
Ryan is the host of Cutting Edge Faith and is passionate about helping Christ-followers equip their faith for everyday life. Ryan works in global procurement and manufacturing and has visited over 20 countries, worked with nearly 200 businesses and coached over 50 leaders. Ryan is a contributor for Charisma Magazine and is the author of 21 Days to a Spirit-Led Life. He holds a Ph.D. in Biblical Studies and has earned degrees in engineering and business. Ryan lives in Iowa with his wife Bruna and their son John.